Bono (Paul David Hewson )
Bono (Paul David Hewson)
Paul David Hewson : Born 10 May 1960, known by his stage name Bono, is an Irish singer, musician, venture capitalist, businessman and activist. He is best recognized as the frontman, primary vocalist and lyricist of the Dublin-based rock band U2.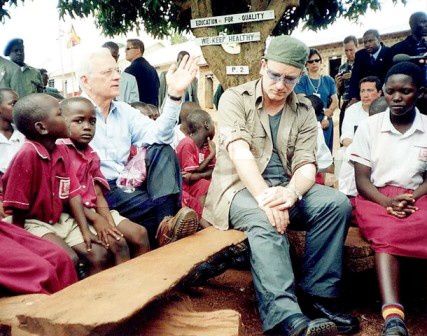 Humanitarian and political engagements : Since 1999, he took an active part in the campaign to cancel the debt of third world countries. In May 2002 it takes the Secretary of the Treasury of the United States, Paul O'Neill, in four African countries. That same year, he founded an organization called "DATA" whose purpose is to inform about the debts of African countries, the AIDS epidemic and unfair trade rules. It will be awarded a Golden Christophe Ceremony Plan to Los Angeles in 2003. He was admitted several times to the Vatican by Pope John Paul II and Benedict XVI who supported his actions, including debt cancellation for poor countries.
My opinion : He participated in humanitarian and political engagements I think having created an organization "DATA" has been a big help for Africans. I think this idea has been very beneficial for African countries but also allow for other stars to emulate Bono at the end to help countries in difficulty. There was alot of stars today who are type of engagement so you can not really know the purpose of these investments. Does that aims to boost the career of Bono? I do not know, and nobody pressed.
Chikhaev Islam
Partager cet article
Pour être informé des derniers articles, inscrivez vous :