Katy perry: the way she use her popularity
STARS ON THE TOP
Latest news: Beyonce gives Madonna daughter a smooch! - Kris Jenner : Bruce and I get along better now that we're separated! - YA author Ne Vizzini Commits suicide!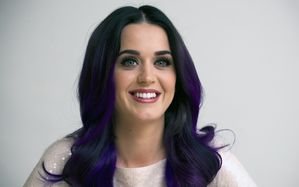 NAME : KATY PERRY
AGE: 29
ORIGINS: AMERICAN
JOB : POP ROCK SINGER, ACTOR, COMPOSITOR
ALBUMS : 5
1. KATY HUDSON (2001)
2. ONE OF THE BOYS (2008)
3. MTV UNPLUGGED (2009)
4. TEENAGE DREAM (2010)
5. PRISM (2013)
+ She plays the guitar
KATY PERRY : HOW SHE USE HER POPULARITY
December the 3 at 9 :01 pm, The Global pop star Katy Perry who just hanging out her new album PRISM leave a message on her twitter account in order to let know that she became the UNICEF's newest Goodwill ambassador. She expressed her pride on this little message and let a youtube link (look here!), who bring to her song « unconditionally » on the UNICEF youtube account. This song was inspired by her trip into Madagascar, on last April. Indeed, she declared that « I went to Madagascar and did a UNICEF trip that changed my life and gave me this song. It's just a simple message about loving someone and accepting them ». It's this trip who also convinced her to joined the UNICEF, like David beckam or the Chinese Jackie Chan did before her.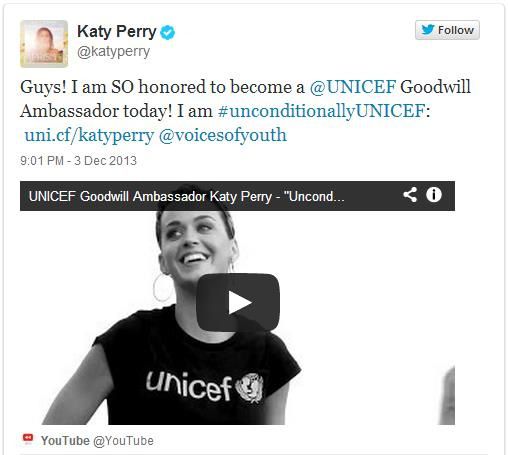 The 29-years-old singer, has become recently the most followed star on twitter: like she said : She has the largest number of followers (48 000 to be precise) and in case of crises she can always somehow call her troups. That's the reason why she decide to leverage her popularity on this social network so as to help the United nations to alert the people about the violence against children. She also explain that there is a generational change due to the fact that technologies used to be so connected and to see immediately what's going on, we can hide anything.
Moreover, she esteem that she is more credible from her followers that she « dont looking for sell them something permanently », she also declared : « i think that they are interested by my personality, they like when i difused some videos or when i communicate with them when i dialogue with them » GOOD POINT, cause, as a Goodwill ambassador, her first purses will be to work to engage young people in speaking out about the issues they believe are the most important in their own lives and enlisting them more directly in coming up with solutions.
She will focus her outreach on children or teenagers who are the most vulnerable like the one who lives in severe poverty or the one who are affected by violence abuse or yet in emergency of conflict situation. She already began to fulfill its role, in fact, she recently has called on her massive social following to support UNICEF's emergency relief efforts for children : including one who was the victim of Typhoon Haiyan Witch struck the Philippines in early November.
WHAT KIND OF NEWS! Well, I'm so glad about it! Katy Perry is a star that I admire for all she does, her song, her movies, how she is with her fans, the way that she is with other people, she's always nice, and she really didn't take big headed. I'm proud about her decision. Indeed, I found that so respectable: she is the first stars who decided to use her popularity on twitter for a humanitarian reason, in order to help the other. I think that she takes her new status to heart, and that she really want to make the best she can to perform its task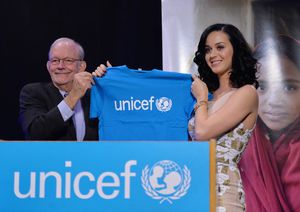 COMMENTS:
Anonyme, via Stars one the top.
I'm not agree with you opinion! She obviously doing that for make her some pub! Come on, like you said it in the beginning of your article she just hang out a new album, make the link...
Anonyme, via Stars one the top.
Oh my god, i'm so happy! Like you said, she the FIRST ONE to used this kind of popularity in this goal, it's so admirable! She has all the qualities who are asking for this statues! Such a good news!
PONDAVEN MORGANE, 1ES1.
Partager cet article