Matt Damon: Ocean's one for safe water.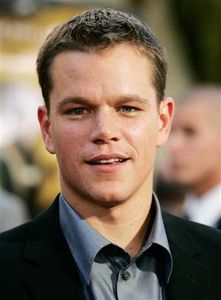 Matthew Paige Damon, better known as Matt Damon, is an American actor, screenwriter and producer. He was born in Cambridge the eight of October, in Massachusetts. After his literary studies in Harvard, the young man dropped out the school to pursue a career in theater and movie. He knew the success with "Good Will Hunting" in 1997. Matt Damon became a reference in the seventh art thanks to his role in "Saving Private Ryan" in 1998, the "Ocean's" trilogy, and the "Bourne" series. Today, Matt Damon is well known with the successfully "Invictus" and "The Departed".
Water Org.

In 2009, Water Partners merged with H2O Africa in order to create an American non-profit development aid organization co-founded by Matt Damon and Gary White, called Water.org. This organization works so as to provide access to safe water and sanitation in developing countries. They will find partnership with local organization; choose appropriate technology to population and innovative solutions.
Water.org says that "more than 3.4 million people die each year from water, sanitation and hygiene-related causes". What an alarming sentence! The water and sanitation problem in developing countries is one of the bigger issues in the world and I think that it's important that some people get involved in it. That's why I could say: Matt Damon is a respectable and generous person because he had created a wonderful and useful organization which could really help people. Water org. works in Africa, South Asia and Central America so they help a lot of people.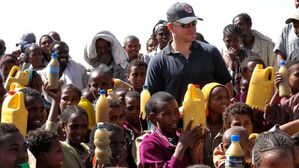 Since his popularity, Matt Damon could encourage people to make donations that it's almost a chance for Water.org who need financing. Moreover he could make people aware of the water issues thanks to his international voice. Furthermore the actor had promote an innovating bottle which help the organization and go in the field with the population so as to works with Water org. and provide their action. That's the reason why I think that a good idea for him to be involved in something. I admire him a lot because of his engagement and his amazing organization. I really hope that he could change something in the world.
Commentaires:
Matt-Fan: I'm agreed! Matt Damon is an important man for Water Org.! This organization could change the world and help real people!

AngryMan: I don't think so! Star get involved in worthless causes just in order to show a good image of them, Matt Damon too! People of the developing countries don't need Jason Bourne to have a better life, they need safe water!

Eléa FOULGOC 1èreS3
Partager cet article