Simon Veil, a committed woman. Bousquet Lucile
Simone Veil, a committed woman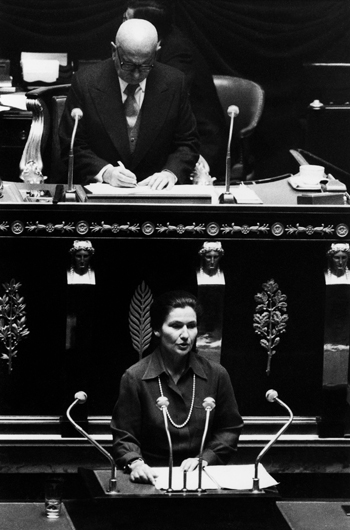 She was named Minister of Health in the Jacques Chirac government in 1974. So, she had the "Veil"law voted, the law on the termination of pregnancy (IVG), which decriminalizes the abortion by the Parliament of the project, the text which returns current on January 17th, 1975. Even if this fight owed her attacks and threats on behalf of the extreme-right and even party of the traditional right, she did not abandon and that is why, I find her exceptional. I find that it is a good thing, that women can have the choice have or not a child (for example a rape). And after all, it is a law of the women, and Simone Veil fought that fought for the credit note. With her speech, Simone Veil managed to convince 284 members of parliament against 189 members. Finally, to authorize the abortion would not lower the birth rate because the secret abortions would be replaced not the legal abortions. So the State could control more easily the birth rate of the nation. It is one of the most convincing, committed woman of the XXth century. The subject on the abortion is a taboo subject. The most delirious, it is because every year in France, 200 000 women (among which 13 500 girls under the age of 18), resort to the IVG. And, the real problem, is that this law is threatened. Some are even forced to leave abroad because they have exceeded the legal limit fixed in France.
LATEST NEWS ! •On January 1st, 2009, she was promoted to the distinction of Grand Officer of the Legion of Honor, at the request of Roselyne Bachelot and with the agreement of Nicolas Sarkozy.
•Since 2009, Simone Veil is also a member of the jury of the Price, for the prevention of conflits awarded annually by the Foundation Chirac.
•She receives the Price Heinrich Heine 2010.

Simon Veil:
-She was born on July 13th, 1927 in Nice. -In 16 years she was deported to Auschwitz-Birkenau, one of the Nazi extermination camps on April 15th, 1944. -She was back in France, on April 15th, 1945. -In May, 1947 she was named Minister of Health. -On January 17th, 1975, she makes vote for the law for the abortion. -From 1979 till 1982, she is the first woman to chair the European Parliament elected in the universal suffrage.


COMMENTS
• I completely agree with you. The body of a woman belongs only to herself. It is thus to her only that the decision belongs - to follow or by interrupt it's pregnancy.
• The abortion is only aggravating things: the woman can become sterile, she in difficulties to concentrate and to evolve in the professional world and finally we do not kill a foetus!
Partager cet article
Pour être informé des derniers articles, inscrivez vous :