The socks that will change your life !
You come back at home, tired, moody after job and frozen in this month of Mars. Too, once your shoes removed, a terrible smell assail you ! And there, you think "If my socks was the source of my trouble ? If with good socks, my life will be better ?" ...
Good socks, is the solution ! Indeed, various studies have shown that the foot and the hands can act positively on the body, and therefore on the mood !
This is why our laboratories created these revolutionary socks : heated, fragrant and invigorating !
How is possible ? I explain you :
- Socks heated : a miniature radiator is grafted up on the sock, it works with a rechargeable battery. The temperature is adjustable in accordance with the amount of sweat and the exterior temperature.

- Socks odorous : the contact between the sweat and the special cotton of the socks causes a chemical reaction. The cords of the sock will release molecules of perfume (lavander, rose, jasmine, fresh mint, chocolate, cherry ...). More there are sweat, more there will of perfume.
- Socks invigorating : the parfumes liberated by the socks are relaxing and motivating. This resultat is possible thanks to the collaboration laboratories working in medical oil.
- Socks massage : there are of little pads in organic plastic under the sock, more or less hard depending of the hardness of the foot.

- Possible option : a locator for socks (so, no single sock !), a step counter and a slimming function for of perfect legs ! Exist in different colours. For all sizes of feet.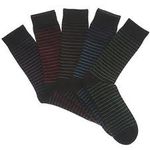 - A beautiful present !

Price : 60£ the sock without option, 30£ of more by option.
Partager cet article
Pour être informé des derniers articles, inscrivez vous :