Zinédine Zidane and his charities
Zinédine Yazid Zidane, is a French international soccer player. He born on June 23rd, 1972 in Marseille. He evolves at the post of offensive middle during his career between 1988 and 2006. He is best known to the general public, expert or not, for his two goals in the final of the 1998 World Cup against Brazil, and for making the double 1998 World Cup - Euro 2000 with team France . He also won the Golden Ball 1998 award for the best player of the year.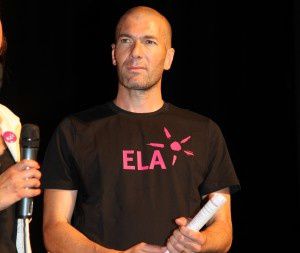 He is the godfaher of the European Association against leukodystrophies (ELA). He had crossedthe little Jérémy at the Stade de France for the start of the match France-Andorre, with this disease, but following a letter sent by Michel Platini, then a meeting in 2000 in Turin Aldo, Michel's father, he decided to engage with ELA. The rest is history. "Zizou" has participated in all the major events and all special programs dedicated to ELA, not to mention relatives and friends he was able to convince him to act. "Zizou" was not merely to bring its reputation. Has forged strong links with families of the association, concerned about their situation and making it available to help them. Since 2001, he is also a Goodwill Ambassador of the United Nations Program of Development alongside Ronaldo with who he organises since 2003 the match against Poverty, a football game that brings toghter the biggest names in football and whose funds raised fund projects to fight against poverty worldwide.
My opinion : This is a good initiative that had Zinédine Zidane because leukodystrophies weren't a disease known before it s godfather of ELA, so its much celebrity support this association. And it's good he does in the program against poverty but it would be better if he gave some of his fortune to the poor.

Alexis lavergne 1S3

Partager cet article