Angie's Actions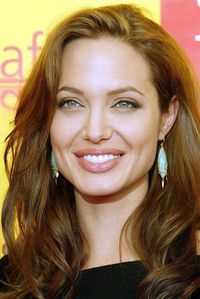 Angelina Jolie was born on June 4th, 1975 in Los Angeles, she is an actress and a American director. She received three Golden Globes, two Screen Actors Guild Awards and an Oscar of the cinema. She defended diverse humanitarian causes worldwide and she's considered for her work in favour of the refugees with the United Nations. She donated $1 million of hermoney and she was elected celebrity having made most humanitarian aids. She has been designated as one of the most beautiful women in the world and her life off-camera is closely followed. She adopted three children, and also had three biological children with Brad Pitt.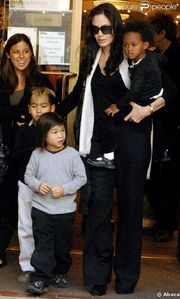 Angelina Jolie has this day six children. On March 10th, 2002, she adopted her first child, Maddox Chivan. He was born on August 5th, 2001 in Cambodia. On July 6th, 2005, she decided to adopt a girl native of Ethiopia, Zahara Marley, who was born on January 8th, 2005. But on May 27th, 2006, Angelina Jolie gives birth to a girl, Shiloh Nouvel, in Swakopmund, in Namibia. Then on March 15th, 2007, she adopted a Vietnamese boy, Pax Thien, been born on November 29th, 2003. Brad Pitt and she, made the decision to adopt together. Finally, she gave birth to twins on July 12th, 2008 in France ; a boy, Knox Léon, and a girl, Vivienne Marcheline. I admire her a lot because in spite of the work which she supplies during her movies or during her humanitarian aids, she managed to realize her dream ; adopting children. I think that it is a good idea because she does her best to help the people in trouble. She likes what she makes. Furthermore, adopting guarantees a better life for the child. His professional future is more opened while in his country, it would maybe have had more difficulty. Angelina Jolie loves her children, she brings them a lot of affection, they would not have in their country of origin, being orphans. It must be difficult for them to be different from their brothers and sisters but in my opinion, Brad and Angelina raise them as their own children.
---
Latest News !
Small Brangelina insists more and more so that her parents marry. In the last spring, their engagement was announced, causing one romantic earthquake on the planet celebrity and being the object of numerous rumours, as one claimed wedding this summer in their castle of Miraval !
---
Comments :
Miranda KLINS :
♦ I adore Angie, she's a beautiful woman, very brave and I so admire her! I agree with her decision to adopt children from abroad. She saved them from poverty and misery by offering them a dream life, full of projects and opportunities. She is wonderful! Now they know affection and enjoyment.
Abigayle STORM :
♦ I really love Angelina Jolie, but I don't understand why she wants to adopt children. It's a scandal!I think that she only wants to catch the media attention and to advertise. She wants everybody to talk about her, maybe she likes being the subject of the conversations. Her poor children have to be bored, she doesn't have time to take care of them, quite as Brad. It is inadmissible ! On the contrary, the kids might receive unnecessarily too much attention. In every case, I think that it is a very bad idea.
Partager cet article
Pour être informé des derniers articles, inscrivez vous :